Valve Keys
Quality Engineering Works deals with Machine Building, Mechanical Fabrication, and allied Industry types of equipment for the last three decades. We also supply heavy-duty tools like refinery valve wrench and valve wheel wrenches. We supply refinery valve wrenches designed for multiple uses in the refining, petrochemical, and gas processing industries.
We supply a Valve Keys with a specially shaped opening which reduces the chance of slipping when working in overhead or crowded positions. Our refinery valve wrenches are durable and safe to use under the most toughest user conditions. chemical refineries, shipyards, power plants, cement & steel plants, water supply installations, etc.
Quality Engineering Works is a major manufacturer of Valve Keys at a reasonable price used in industrial applications. Made from durable and tempered material. These Valve Key Tool are safe and suitable to use in any dangerous necessity.  Valves Wrenches made by QEW can stand up to any level of pressure and abuse. Our valve wrenches are designed to have superior grip and are able to be used with no risk of the wrench falling off. 
As for valve keys, we have our standard models, product catalog enclosed herewith. Besides, we also manufacture as per users drawing/sample to their entire satisfaction in all counts of price, quality & delivery
QEW is a Leading Manufacturer & Exporter of  Valve Wrench and Valve Key Tools in India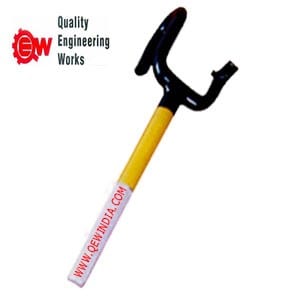 The claw valve wheel wrenches have two different sized apertures which is wrap around a valve wheel, providing you a firm grip and allowing you to securely open and close valves. The force required to turn valves with a handwheel is reduced using these wrenches. Valve wheels are tightened and disengaged with these wrenches
| S. NO. | VALVE WHEEL SIZE | OUR MODEL / TYPE |
| --- | --- | --- |
| | | |
| | | |
| | | |
| | | |
| | | |
| | | |
| | | |
| | | |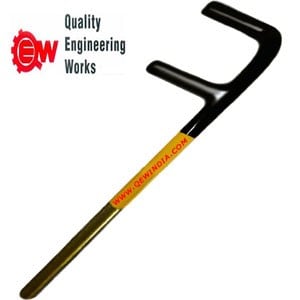 The double F-shaped valve wheel hooks can be placed through the spokes on the handwheel to reduce the force required to open or close the valves.
| S. NO. | VALVE WHEEL SIZE | OUR MODEL / TYPE |
| --- | --- | --- |
| | | |
| | | |
| | | |
| | | |
| | | |
| | | |

Double-end valve wrenches grip the valve-handwheel to provide secure leverage for opening and closing the valve. They can be used to reduce the force required to open and close valves with a handwheel.

| S. NO. | VALVE WHEEL SIZE | OUR MODEL / TYPE |
| --- | --- | --- |
| | DOUBLE END; MTL: MILD STEEL; SIZE: 13 AND 17 MM | |
| | DOUBLE END; MTL: MILD STEEL; SIZE:18 AND 25 MM | |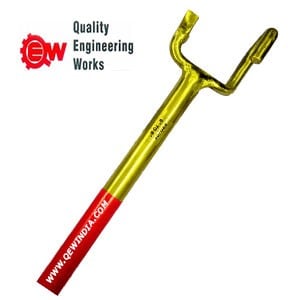 Non-sparking hand tools are essential to use in environments that have liquids, solids, and gases classified as explosive and flammable materials. Conventional Steel Tools can generate sparks and can trigger an explosion or fire. Non-sparking Hand Tools often called anti-spark Tools, Safety Tools and also known as Sparkless Tools are required for safety reasons
| S. NO. | VALVE WHEEL SIZE | OUR MODEL / TYPE |
| --- | --- | --- |
| | | |
| | | |
| | | |
| | | |
| | | |
| | | |
| | | |
| | | |